If you don't count my attempt to write a total ripoff of the Hardy Boys at age twelve, I started getting serious about writing fiction shortly after moving to Austin twenty-five years ago. That's when I discovered writing instructor Gary Provost in the pages of Writers Digest. WD We lost Gary back in 1995, but the writers' retreat workshop he co-founded is still going strong and going on this week in Texas.
I am a graduate of the workshop from a couple of years back, shortly before publishing my first novel Live At Five. I wish every budding author could experience something like that, a week of writing and socializing with other writers. It's fiction summer camp for adults. So on this 20th anniversary of Gary's passing, I created this short video tribute to Gary with Writers' Retreat Workshop co-founder Gail Provost Stockwell and current director Jason Sitzes.
It also provides one of Gary's favorite tips for new fiction writers:
I will grab more video from the 2015 version of the Writers' Retreat Workshop in San Antonio and share some newfound knowledge from one of the instructors next week.
In the meantime really great bad sentence to start your novel: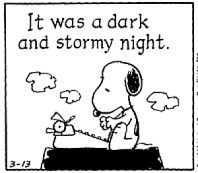 Hard-boiled private dick Harrison Bogart couldn't tell if it was the third big glass of cheap whiskey he'd just finished, or the way the rain-moistened blouse clung so tightly to the perfect figure of the dame who just appeared panting in his office doorway, but he was certain of one thing…he had the hottest mother-in-law in the world.